Rival's Jaida RPT, CGC, ADC
AKA: 'Jaida' Jaida Loo, Jai
DOB: April 1, 2005
CERF clear, OFA Good and Optigen CEA normal by parentage

Jaida is a great girl with lots of heart and very strong work ethic.  She is a full litter sister to Brynn, Crime's dam.  Jaida competes in Agility with her owner Craig.

Here is what Jaida's owners have to say about her:

"Jaida is a very focused, friendly, and problem solving girl. She loves the game of Agililty and has shown excellence at it. She is very fast and has focus except for the table (who's idea was that anyway) She is a beautiful girl and has thrown lovely pups who are competing in Agility, flyball, and Frisbee. Her structure is wonderful,. She measures 20.5 inches and weighs 34 lbs. She has birthed 2 litters (of 8) and all are well. They are very biddible and will be wonderful pups trained by the right handlers."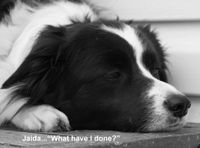 OFA Good, CEA DNA Normal, CERF Normal
AKC DL67982503 OFA Good Hips BCO- 2919G26M-T CERF Normal BCO-1634 (Tested 1999)

Ch Borderbreeze Barnstormer from Darkwind

Darkmind Jessica the Newz Maker

AKC DL69830101 OFA Good Hips BCO- 3020G24F-T CERF Normal BCO-1479 (Last tested 2002)

Ch Borderbreeze Barnstormer from Darkwind

OTCH CH Brighteye Quicksilver