Power Tripp's Energetic Journey
AKA: 'Nisa'

ONYX Hollowshot Trippin' On Sunshine, RPT, ADD, ADDCh, NGC, CGC, TDI, NA
x Rival's Joke's On U
DOB: January 10, 2009
CEA DNA Normal by parentage

Nisa was a very spunky pup but also had a soft, sweet side to her that made her very cuddly. Nisa is just starting her Agility career and training in herding too...she is a natural at both!  At home Nisa is a comical, sweet girl with loads of personality. Nisa is owned by Jennifer and Mark Hammond. 

Update - "
Now I know how Kim feels about Tripp because that is the way I feel about Nisa.  She is my heart dog.  It was instant from the moment we picked her up.  She was such an incredible pup and grew up into a very one of a kind dog.  She is the type of dog that was born knowing the rules.  That doesn't mean she doesn't break them but she definitely expects everyone to follow them.  She has so much love for her humans and she shows it.  She has a lot of drive and LOVES to work.  She wants a job that is productive and doesn't like to drill.  She is the boss on the agility course (yes it is true) and has learned (or maybe humors me) that we are a team working sheep.  If she could work sheep around an agility field and then take them for a swim she would be in heaven.  There isn't anything I wouldn't do for this dog. "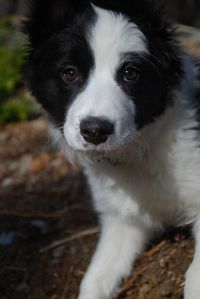 CEA DNA normal by parentage
AKC DN00487107 CBCA B 5000237 OFA Good, CEA DNA Normal, CERF clear

AKC DN10675207 CBCA B5000405 OFA Good Hips BCO-6995G28F-PI OFA Normal Elbows BCO-EL1249F28-PI

AKC DL67982503 OFA Good Hips BCO- 2919G26M-T CERF Normal BCO-1634 (Tested 1999)

AKC DL69830101 OFA Good Hips BCO- 3020G24F-T CERF Normal BCO-1479 (Last tested 2002)