Introducing Link...
Power Tripp's Essential Element RPT, ATcHC, MSCDC, Bronze, ExSt Bronze and EXSc Bronze
AKA: 'Link', Pinky, Linkers, Pink Face
DOB: September 7, 2011
CEA DNA Normal, OFA Hips Excellent/Elbows Normal

Link is one of those puppies that caught my eye and attention at a very young age.  Her eyes say it all.  The "old soul" that you can see in them takes me back to her Grandsire, Tripp.  Link also took on her Momma Stash's love of life.  She feels that the world is her oyster and she's ready to take it on.  As Link gets older, her natural talent is really shining through in all she does.  Link has power and speed and lots of drive to succeed. 

2014 proved to be a new chapter in Link's record of success as s
he won her first international medal (silver) at the WAO US Open in November!
Link is co owned and loved (a lot!) by our good friend Laura Campbell but she has had her one litter (and blessed us with SIX WONDERFUL kids) and she is now done and back to her International competitions!

Click here to see Link's debut to fame on the cover of a Harlequin Novel!
Link- AAC Jumpers Dec 7 2013
Pedigree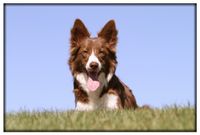 2011/9/7
CEA DNA Normal by parentage, OFA Hips Excellent/Elbows Normal
Red/white CEA Normal OFA Good 2012 IFCS Team Member 2009 & 2011 AAC Regional Champion 2011 World Agility Open Team Member 2010 Canadian Steeplechase Champion 2010 IFCS Biathlon Silver Medalist 2010 IFCS Ind. Jumper Bronze Medalist 2009 AAC Canadian Champion 2008 & 2009 FCI World Team Member

AKC Ch Spot VIII (ABC 73928) HXAs [Usa]

Chance (ABC 113725) [Usa]

Bootsey Clark (ABC 58072) [Usa]

AKC DN24179401 CBCA B 5000759 OFA Excellent BCO-7449E25F-VPI, CEA DNA Normal, CERF Normal 2010

AKC DN00487107 CBCA B 5000237 OFA Good, CEA DNA Normal, CERF clear

Astra Bet ISDS 224920 J.P. Beale

Jaz ISDS 199614 Sandra MacCorquodale