About Tripp...
FDGCh Hollowshot Trippin' On Sunshine, RPT, ADD, ADDCh, NGC, CGC, TDI, NA
AKA: 'Tripp', Mister Mister, Trippy
March 24, 2002 - December 17, 2015
OFA 'GOOD' , Optigen CEA DNA Normal (07-10155) and CERF clear
19" tall, 33lbs

December 2015 brought my incredible journey with an even more incredible dog to a close.  He was a dignified, outstanding specimen of the breed to the very end. He remained my faithful friend, licking away my tears as I lay next to him during his final moments, crying with overwhelming sadness for the loss I was about to feel...while he continued to be strong for me, never faltering. I remain forever grateful for this creature. He opened doors for me that I never could have found without him. Some of my most meaningful friendships in life have been found because of him and the legacy in which he left behind speaks for itself.  

To my heart dog...I feel your presence every day and look forward to when we meet again and you come running towards me, smiling like you always did and this time, kiss away my tears of joy. Until then, I look forward to your visits and messages. Thank you for everything.

 UDATE 2105:  Sound as a whistle all over with the exception of an unfortunate soft tissue sarcoma tumor on/in his ear area.  This is the only thing causing this amazing boy any struggle as he ages.  An invasive surgery to remove as much of this tumor as we could was done in June 2015.  It quickly returned within a few weeks and so we will continue to battle it with some great natural remedies.

UPDATE 2014: As the years go by I find myself assessing and reassessing my dogs...The way a dog ages says a lot about what they are made of.  As of today, Tripp is just 4 months shy of his 13th birthday.  He is still sound, still sharp and still exceptionally healthy.  He's still easily clearing the 32" baby gates around the house which of course are only there for the "other" dogs. 

UPDATE 2012: Tripp was awarded the NAFA Iron Dog Award for 10 consecutive years of Flyball racing!  I am proud to say he STILL looks amazing.....love this boy!!!

If there is such a thing as being soulmates with a dog, Tripp is mine. He is my "heart dog" and he is what inspires me to do what I am doing today in my breeding program. Aside from all of his success in dog sports and producing some amazing offspring he truly a special dog. He is calm and quiet and unassuming but I KNOW that if I were ever to be threatened in his presence he would be the first to step up and protect. Often described as a "perfect gentleman", Tripp has a friendly, outgoing personality and bomb proof temperament.  Tripp gets along great with all dogs, people and other animals.  I have honestly not met very many dogs with a disposition as stable as his. He is a very easy dog to live with but has just the right amount of drive to make him a very successful sport dog. Tripp began his performance career at just 8 weeks old doing a Canada Day demo in Toronto with the Nutram Performing Dogs team. Tripp has also appeared on television several times and is featured on the packaging for Purina Lamb and Rice Dog Chow. 

Tripp consistantly ran 3.9-4.0 in start position at with his best time ever being 3.79. Tripp is an awesome Disc Dog and has won several competitions across Ontario and in the US.  At home Tripp is often found sleeping upside down on the couch with his legs straight up in the air. His favorite thing to do in the whole world is swim... sometimes getting him out of the water can prove to be a challenge!  One of his other pastimes is visiting nursing homes, hospitals and hospices as a certified therapy dog. Tripp is my constant companion and is always by my side or at my feet no matter where I am and that constant companion is an unbelievable gift.  None of this dogs accomplishments will mean more to me than the undying loyalty that he has given me since the day I was lucky enough to bring him into my life.
 
Tripp measures in at 19" tall and weighs 34 lbs. His compact build allows for a lot of speed, power and agility.  For a male he is on the smaller side but has a very well balanced body and no major structural flaws.  He has put multiple OFA Excellent hip ratings on his offspring and passes along his even, stable temperment to his kids. His offspring have proven themselves in all areas including Agility, Flyball, Herding and Obedience. 

Click here to see some of Tripp's offspring to outside females. 
Pedigree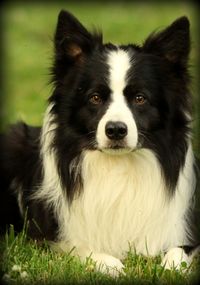 AKC DN00487107 CBCA B 5000237 OFA Good, CEA DNA Normal, CERF clear