About Babble...
Imp. Blacksheep Jackie
AKA: 'Babble', Bibbity Babbity Boo, Squirrelly Girlie
DOB: July 17, 2014
OFA Good, CEA Normal, EOAD/DM/CM/MDR1/NCL/TNS/SN Normal, BAER Normal
Babble hails from Italy but her dam and sire are both from Wales. Her pedigree is chocked full of impressive herding linage. This is the 'whole package' I have been in search of for many years. Babble is a bit of a rarity in North America due to her 'bearded' coat type. I named her Babble as I feel I do a lot of babbling when explaining her looks and heritage! Her ground speed is amazing. She's got a BEAUTIFUL build. Babble is easily putting out 3.9's and runs in fourth position on our Flyball team. At home she's a middle of the road kind of dog as far as the group dynamics go, not a push over but not a really bossy bitch either. She's an easy dog to live with and loves a good snuggle on the couch. She can be suspicious of strangers and she likes to sound the alarm when someone comes to the door but once the person has passed inspection she will be their best friend and likely shadow for the remainder of their visit. 
Babble is FCI, ISDS, ABCA and AKC registered. Grit is ABCA and AKC reg'd.
Puppies will be both ABCA/AKC registered. 
To date Babble has whelped three litters:
UPDATE 7/27/2021: After having a chance to watch Babble's pups grow and mature, her first litter not quite two years old yet, I've decided to remove the line from my breeding program. This is a massive disappointment too me because she has some really outstanding offspring that truly encompassed everything I was striving for in breeding Babble in the first place... and although I absolutely do NOT regret breeding her, I do believe in looking at the big picture moving forward. Based two pups she's produced herself with some temperament faults as well as those I've learned about out of her sister it is likely the best decision. 
Pedigree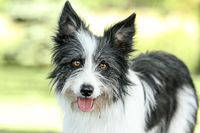 2014/7/17
ISDS 333863/ABCA 452525/AKC DN52370601
OFA Good, BAER Normal CEA/DM/ICM/MDR1/NCL/SN/TNS Normal
2009/6/20

D.K. Evans CEA Normal, Hip score 11

Welsh National Champion 2013 International Driving Champion 2013 All Wales Reserve Nursery Champion 2011 European Nursery Champion 2011 Defaidity Champion 2013 Deerplay Hill Champion 2013 World Trial Qualifier Champion 2013

2002/8/10

Rough Black Tricolour, ( Bobby Dalziel ) CEA DNA Normal and free for CEA/CAT/PRA.

2004 Scottish National Champion Scottish Driving Champion International Driving Champion Qualified for International and World Trial several times

Deveron Lassie (ISDS 193296)

Tweedhope Jess (ISDS 211679)

Whiterose Kep (ISDS 228380)