Power Tripp's High Velocity
AKA: Vortex, Vor Vor
CEA DNA Normal by parentage

Vortex was the first puppy born. He is a flashy looking boy!  Vortex is owned and loved by Kelly Doner.  She has started him in Agility and admittedly is 'amazed' with his fast learning and eagerness to perform.  This boy is going to burn up the course!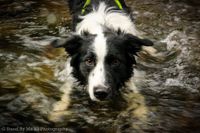 2009/1/10

AKC DN23731101 CEA DNA Normal by parentage, CERF Normal, OFA Excellent, TNS Normal

AKC DN00487107 CBCA B 5000237 OFA Good, CEA DNA Normal, CERF clear

AKC DN10675207 CBCA B5000405 OFA Good Hips BCO-6995G28F-PI OFA Normal Elbows BCO-EL1249F28-PI

2011/7/9

CEA DNA Normal by parentage, OFA Excellent, TNS Carrier, IGS Normal ABCA 369729, AKC DN38477701

ISDS 277219 & ABCA 333914 Joyce Heibertshausen B/W/T rough coat DNA Normal for CEA Hips OFA Good