About Brynn...
Rivals Joke's On U RPT, FDCh-G
AKA: Brynn
DOB: April 1, 2005 
CERF clear, OFA Good and Optigen CEA normal by parentage

Brynn comes from Rival Kennels of Palmerston, ON.  She has a wonderful pedigree full working sheepdogs and proven performance dogs.  Brynn is a beautiful little girl with a confident and outgoing temperment.  She has a funny way of greeting people with a full "smile", showing her teeth and wiggling her butt.  Brynn runs flyball on Positive Pups/Rocket Relay and is running sub 4's with ease.   Brynn stands about 18" tall and weighs 30 lbs.  She's a smaller dog but packs a lot of power! 

Brynn's biggest physical fault is her lack of length in the neck.  She is also slightly cow hocked in the rear. Brynn is a sweetheart with people but can be a bit 'bitchy' with other dogs who come into her space...she never fights but feels no way about expressing her dislike with a strong glance and not so friendly smile.  So far all of her offspring is doing well in their chosen sports and are healthy overall.

Brynn is co owned by Arisa Babiuk of Brampton, ON.   
Pedigree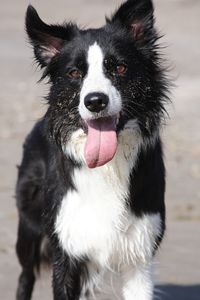 AKC DN10675207 CBCA B5000405 OFA Good Hips BCO-6995G28F-PI OFA Normal Elbows BCO-EL1249F28-PI
AKC DL67982503 OFA Good Hips BCO- 2919G26M-T CERF Normal BCO-1634 (Tested 1999)

Ch Borderbreeze Barnstormer from Darkwind

Darkmind Jessica the Newz Maker

AKC DL69830101 OFA Good Hips BCO- 3020G24F-T CERF Normal BCO-1479 (Last tested 2002)

Ch Borderbreeze Barnstormer from Darkwind

OTCH CH Brighteye Quicksilver