ONYX Cymbrogi's REM SAADC, DDX, BDD, CGC
DOB: May 7, 1998
OFA Good, CERF clear and Optigen CEA Normal
Owned by Joy Brunton

REM is not quarrelsome with other dogs. He can run and play with other intact males without any problems. People are often surprised to find out that he has not been neutered. REM is a high drive dog who always wants to do everything at full speed. He is an intensive worker who will not be distracted from his job. However, when he is home he is happy to sit quietly and relax. 

Structurally REM is a well balanced, moderate border collie. He has nice shoulder layback with rear angulation to match. He has a level topline and good arch of neck.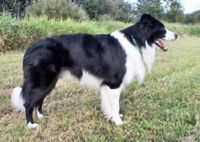 CBCA 129666 DNA/CEA Normal OFA Good