Introducing Totem...
Power Tripp's Off Limits
AKA: 'Totem', Rainbow Bacon
DOB: December 15, 2016
CEA/CM/DM/MDR1/TNS/IGS/SN Normal, BAER Normal
Power Tripp's Essential Element x Icepeak's Rays Fly High

This handsome guy made his arrival into the world in an anything but uneventful fashion. After an hour of labor, Link was having trouble getting his big shoulders out even with some help from me.  So off we went to the emergency vet at midnight...in a snow storm.  It's amazing that I even made it out of my driveway! Once at the clinic with some more help from the vet, Link was able to deliver this handsome boy. 
Totem is owned and loved by Lynda Orton-Hill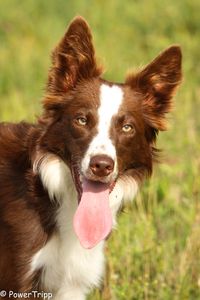 2009/1/28

49 cm, 16 kg HD B/B, ED 0/0 CEA/PRA/cat free 23/11/2009, 03/08/2012 CEA (Optigen) free 10/06/2011 MRD-1 genodefect free TNS gene free

2011/9/7

CEA DNA Normal by parentage, OFA Hips Excellent/Elbows Normal

Red/white CEA Normal OFA Good 2012 IFCS Team Member 2009 & 2011 AAC Regional Champion 2011 World Agility Open Team Member 2010 Canadian Steeplechase Champion 2010 IFCS Biathlon Silver Medalist 2010 IFCS Ind. Jumper Bronze Medalist 2009 AAC Canadian Champion 2008 & 2009 FCI World Team Member

AKC DN24179401 CBCA B 5000759 OFA Excellent BCO-7449E25F-VPI, CEA DNA Normal, CERF Normal 2010

AKC DN00487107 CBCA B 5000237 OFA Good, CEA DNA Normal, CERF clear